Hosted by
China's Society of Naval Architecture & Marine Engineering
Shanghai Hongkou District People's Government
Shanghai Service Federation
Shanghai Aquatic Tourism Development Center
Supported by
China Association of the National Shipbuilding Industry
China Ports & Harbors Association Cruise Terminal & Yacht Club Branch
Committee of Cruise Industry of World Tourism Cities Federation
Shanghai Shipbuilding Industry Association
Shanghai International Cruise Economic Research Center
China National Cruise Ship Design Alliance
Shanghai Hongkou Investment Promotion Office (Shipping office)
Shanghai Modern Service Federation Cruise Economy Committee
Merchants Exhibiton
Overseas Supported by
Contact Us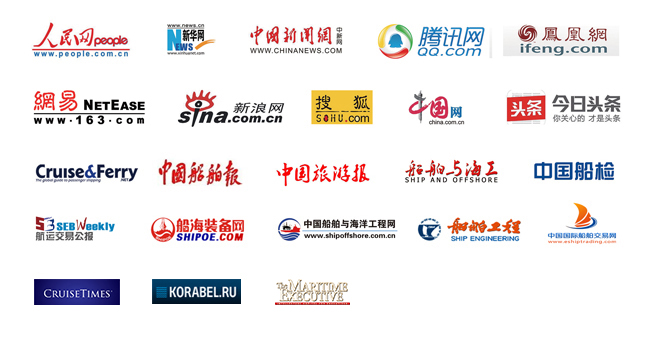 A Network platform
Through the official website, wechat, weibo and other social platforms for professional visitors to timely provide the latest developments, authoritative industry information and related reports.
B Industry websites and magazines
Partnership with China Shipping, China ship Inspection magazine, Cruise & Ferry and other domestic and foreign etc. about 50 relevant industry websites, periodicals, micro-platform for extensive publicity and exhibition information push, news coverage before during and after the forum.
C Mass Media
Publicity reports by People's Daily Online, CCTV.COM, Xinhua News, Phoenix TV, Sina, Sohu, Jiefang Daily, Wenhui Daily, Xinmin Evening News and other well-known media etc.